Supplier: Bruag AG
Industry:
Construction, Interior design, Other
Usage:
Walls, Sound insulations, Furniture, Deco, Other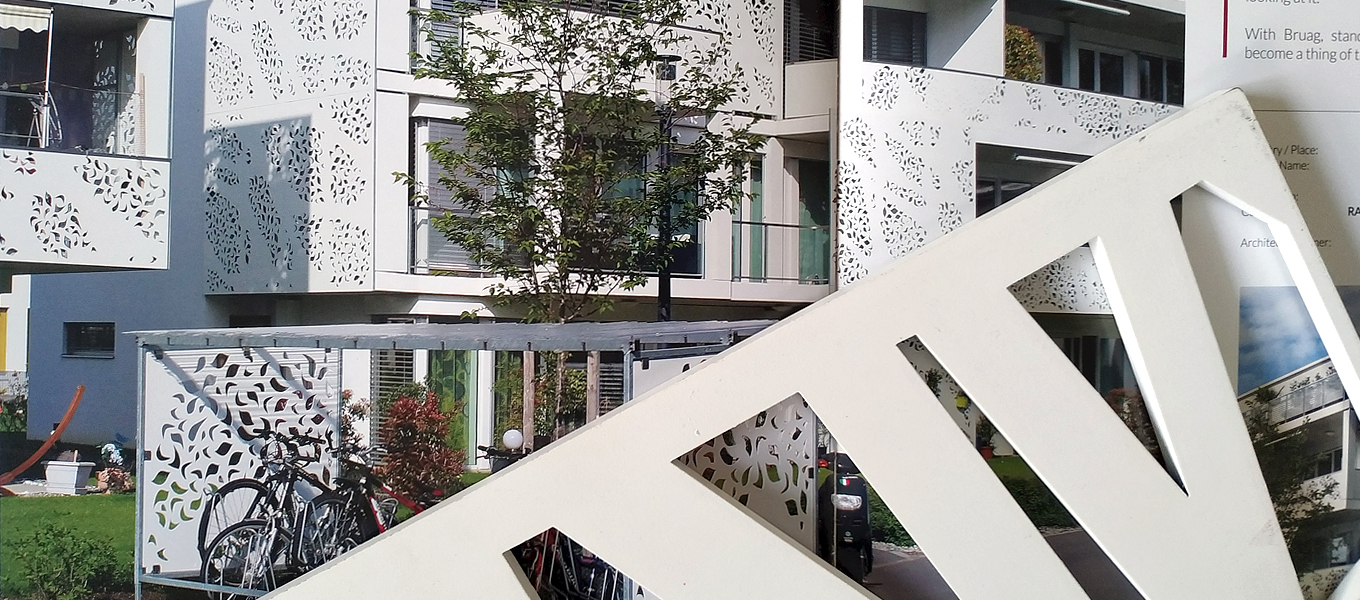 CELLON® Facade systems
BRUAG-0001
For exterior use, CELLON® facade systems are back-ventilated systems available with an endless variety of perforations. CELLON® is a carrier board made from a compact high-pressure laminate board (HPL), based on 70% paper layers and 30% phenol resin. Every panel is individually laser-cut, coated with UV-resistant colour tone and delivered ready for assembly. They can also be used for balcony balustrades and garden applications. For interior use: wall decoration, room dividers, sliding screens, acoustics systems and even furniture, in residential or commercial spaces, office areas and hotels.
The thickness of the material also allows for 3D effects created by the perforations. CELLON® is also much lighter than sheets made of metal or glass. The claddings are very durable and all the colours used are lightproof. The colour range can adapt to 3000 colours and shades in the RAL. Size: Raw material: 3630x1860, 3050x1300mm. Maximal format industrial coating: 3600x1300mm Thickness: 8-10mm. Other Bruag panels can be made from MDF or plywood.
Aspect details
| | |
| --- | --- |
| Glossiness | Glossy |
| Translucence | 0% |
| Texture | Smooth |
Sustainability
| | |
| --- | --- |
| Compostable | No |
| Recyclable | No |
| Biodegradable | No |
| Lightweight | Yes |
| Renewable | No |
| Carbon footprint | - |
| Recycled content | - |
| Toxicity | - |
Technical details
| | |
| --- | --- |
| Hardness | Hard |
| Structure | Closed |
| Acoustics | Moderate |
| Format | 2D - Slab |
| Odor | Unknown |
| Temperature | N/A |
| Antibacterial | No |
Resistance
| | |
| --- | --- |
| Scratch resistence | Good |
| Fire resistence | Moderate |
| UV resistence | Good |
| Water resistence | Good |
| Abrasion resistence | Moderate |
| Skid resistence | N/A |